Customer Reviews
Hi Justin, just a text to say the fiddle arrived yesterday and we are delighted with it. Beautiful sound and such an improvement over her previous fiddle set. Thanks again for your advice and excellent service. (Co Donegal)
Delighted with fiddle!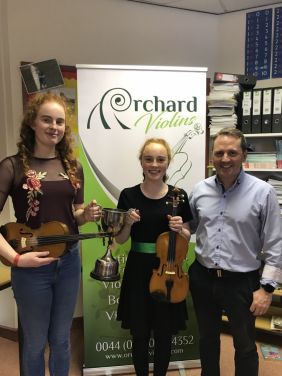 Ulster Champion Fiddlers Una and Meabh Mc Glinchey are both customers of Orchard. Here they are at the Ulster Fleadh pictured with Justin after their competitions. Congratulations to the girls on their recent successes!
Champion Mc Glinchey sisters endorse Orchard Violins
Dear Justin,
Just to let you know that the violin arrived here safely about midday today. Many thanks for packaging it so well, all was fine. I must say that I am delighted - it really is a lovely instrument. The colour of the varnish and flaming are even more attractive than in the photographs. I've spent most of the afternoon playing it and am impressed by its tone and volume. The new bow and case are excellent and thank you for including some rosin too! I was able to start playing straight away. Many thanks once again, you made the whole buying process easy and straightforward.

With very best wishes


Buying Process easy and straightforward!
Hi Justin, To let you know the bow arrived Saturday morning and I have now had a chance to practice with it. I am playing it on the 1920 Lowendall violin that I bought from you and I can say I am delighted with both the violin and the bow. They are both a big step up in quality from what I was playing before and it is a real pleasure to play them.
Thanks very much!
Delighted with Violin and Bow
Hi Justin,
Just to let you know the violin arrived here safe and sound this afternoon. Very securely packed.
It's a lovely violin with which I'm very pleased. Thank you again for an excellent service.
A lovely violin and securely packed
I had the pleasure of meeting Justin on Saturday last, as I was looking for a full size fiddle for my daughter. We were very impressed with his range of fiddles and had great difficulty in choosing one. She loves her New fiddle and has not put it down since! She will have it for many years to come. Tks Justin for your time, knowledge and excellent service. Highly Recommend.
Fiddle for my daughter
Hi Justin, got the Amati violin and boy does my daughter enjoy playing it! What a difference in tone. It was still in tune as well. Thanks again! (Glasgow)
What a difference in tone!
Justin thank you so much for your advice and guidance on purchasing my daughter's fiddle. She is delighted with it. It is a beautiful instrument and we will definitely be back with you.
Thanks for advice
We have just had our son's fiddle set up beautifully by Justin of Orchard Violins and I have to say we are delighted with it. We also purchased a lovely bow from him. We would highly recommend Orchard Violins to anyone who would like to purchase a violin, a bow, have adjustments made or their instrument set up. The fiddle is now perfect and sounds terrific! Thank you Justin!
Violin Set Up
Justin recently restored an old fiddle that a family member gave to me. It had been sitting in a cupboard for years on end, was eaten by woodworm, and was basically a wreck. I took it to Justin to see if it was salvageable even to play a tune, or pass it along in the family for younger members to learn on. I didn't expect much from it being so damaged. I just picked it up today and I'm gobsmacked. The quality of workmanship is excellent and the tone Justin was able to create in the instrument is second to none!! I also bought a beautiful french fiddle from Orchard Violins too. Would 100% recommend Justin as a first stop for instrument sales/repairs!!!! I won't be going anywhere else with my fiddles from now on when they need a service!
Fiddle Restoration
Justin not only re haired my favourite bow but he gave it a good overhaul and I can't stop playing since it was swiftly returned to me in less than 48 hours of him receiving it!! Excellent, professional service.
I highly recommend Orchard Violins to all my students and fellow fiddlers. 🎻
Bow Rehair
I've just got Orchard Violins to service my old violin that had a hard life due to my ignorance. At very short notice, Justin worked a miracle on it and it sounds and looks fantastic. His rate was more that reasonable and I learned a lot from him about keeping the violin in good nick. I'd thoroughly recommend him for servicing violins.
He had a lovely selection of old violins for sale, all of which were lovingly restored and ready to play. If he hadn't done such a good job on mine I would have bought one!
Violin Service
I needed my bow rehaired. Justin rehaired it, readjusted and cleaned the mechanisms and had it ready the next day.
Bow Re-hair
I recently bought a bow from Orchard Violins. They have a lovely selection of very reasonably priced bows to choose from and I'm delighted with the one I chose. If you're looking for a new fiddle or a new bow, I'd definitely recommend Orchard Violins!
Lovely fiddle bow
Justin did a fantastic job setting up two fiddles for us. Very professional, reasonably priced, can only recommend highly.
Set up two fiddles for us
Justin recently restored my mother's fiddle which was in a very poor state of repair. He did an amazing job and went way above and beyond what was expected. I am extremely happy with how the project turned out and this family heirloom has been saved and is once again a playable instrument which I'm sure will be handed down to future generations. Thanks again Justin for all your hard work and I'm more that happy to recommend you to anyone looking repairs.
Old Violin Repair